Chief Digital Officer at Kenes Group Audrey Alloul was recently awarded the IAPCO Driving Excellence Innovation Award 2022 for leading the development of the UNLOK Education project, aimed at providing a cutting-edge, expert-based continuing educational platform to healthcare professionals in need of short, easy-to-access, up to date medical knowledge.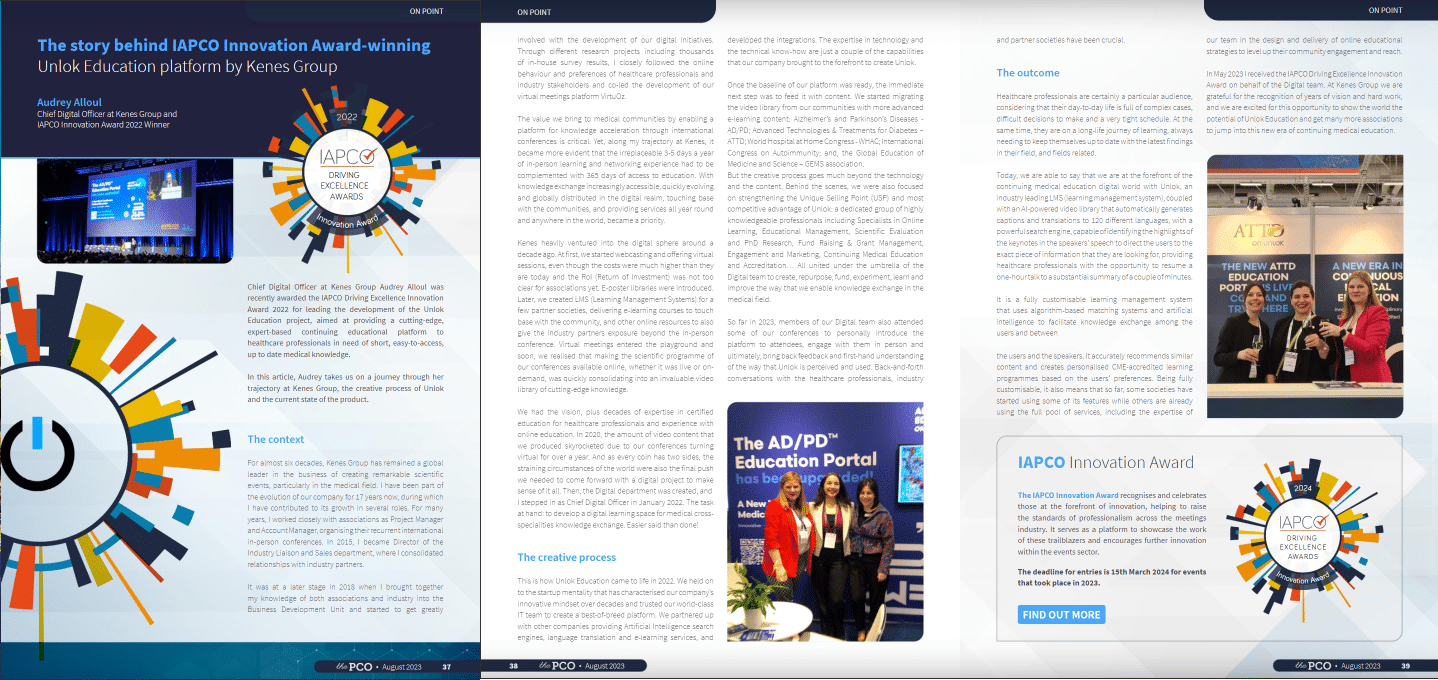 The context
For almost six decades, Kenes Group has remained a global leader in the business of creating remarkable scientific events, particularly in the medical field. I have been part of the evolution of our company for 17 years now, during which I have contributed to its growth in several roles. For many years, I worked closely with associations as Project Manager and Account Manager, organising their recurrent international in-person conferences. In 2015, I became Director of the Industry Liaison and Sales department, where I consolidated relationships with industry partners.
It was at a later stage in 2018 when I brought together my knowledge of both associations and industry into the Business Development Unit and started to get greatly involved with the development of our digital initiatives. Through different research projects including thousands of in-house survey results, I closely followed the online behaviour and preferences of healthcare professionals and industry stakeholders and co-led the development of our virtual meetings platform VirtuOz.
The value we bring to medical communities by enabling a platform for knowledge acceleration through international conferences is critical. Yet, along my trajectory at Kenes, it became more evident that the irreplaceable 3-5 days a year of in-person learning and networking experience had to be complemented with 365 days of access to education. With knowledge exchange increasingly accessible, quickly evolving and globally distributed in the digital realm, touching base with the communities, and providing services all year round and anywhere in the world, became a priority.
Kenes heavily ventured into the digital sphere around a decade ago. At first, we started webcasting and offering virtual sessions, even though the costs were much higher than they are today and the RoI (Return of Investment) was not too clear for associations yet. E-poster libraries were introduced. Later, we created LMS (Learning Management Systems) for a few partner societies, delivering e-learning courses to touch base with the community, and other online resources to also give the industry partners exposure beyond the in-person conference. Virtual meetings entered the playground and soon, we realised that making the scientific programme of our conferences available online, whether it was live or on-demand, was quickly consolidating into an invaluable video library of cutting-edge knowledge.
We had the vision, plus decades of expertise in certified education for healthcare professionals and experience with online education. In 2020, the amount of video content that we produced skyrocketed due to our conferences turning virtual for over a year. And as every coin has two sides, the straining circumstances of the world were also the final push we needed to come forward with a digital project to make sense of it all. Then, the Digital department was created, and I stepped in as Chief Digital Officer in January 2022. The task at hand: to develop a digital learning space for medical cross-specialities knowledge exchange. Easier said than done!
The creative process
This is how UNLOK Education came to life in 2022. We held on to the startup mentality that has characterised our company's innovative mindset over decades and trusted our world-class IT team to create a best-of-breed platform. We partnered up with other companies providing Artificial Intelligence search engines, language translation and e-learning services, and developed the integrations. The expertise in technology and the technical know-how are just a couple of the capabilities that our company brought to the forefront to create UNLOK.
Once the baseline of our platform was ready, the immediate next step was to feed it with content. We started migrating the video library from our communities with more advanced e-learning content: Alzheimer's and Parkinson's Diseases – AD/PD; Advanced Technologies & Treatments for Diabetes – ATTD; World Hospital at Home Congress – WHAC; International Congress on Autoimmunity; and, the Global Education of Medicine and Science – GEMS association.
But the creative process goes much beyond the technology and the content. Behind the scenes, we were also focused on strengthening the Unique Selling Point (USP) and most competitive advantage of UNLOK: a dedicated group of highly knowledgeable professionals including Specialists in Online Learning, Educational Management, Scientific Evaluation and PhD Research, Fund Raising & Grant Management, Engagement and Marketing, Continuing Medical Education and Accreditation… All united under the umbrella of the Digital team to create, repurpose, fund, experiment, learn and improve the way that we enable knowledge exchange in the medical field.
So far in 2023, members of our Digital team also attended some of our conferences to personally introduce the platform to attendees, engage with them in person and ultimately, bring back feedback and first-hand understanding of the way that UNLOK is perceived and used. Back-and-forth conversations with the healthcare professionals, industry and partner societies have been crucial.
The outcome
Healthcare professionals are certainly a particular audience, considering that their day-to-day life is full of complex cases, difficult decisions to make and a very tight schedule. At the same time, they are on a long-life journey of learning, always needing to keep themselves up to date with the latest findings in their field, and fields related.
Today, we are able to say that we are at the forefront of the continuing medical education digital world with UNLOK, an industry leading LMS (learning management system), coupled with an AI-powered video library that automatically generates captions and translations to 120 different languages, with a powerful search engine, capable of identifying the highlights of the keynotes in the speakers' speech to direct the users to the exact piece of information that they are looking for, providing healthcare professionals with the opportunity to resume a one-hour talk to a substantial summary of a couple of minutes.
It is a fully customisable learning management system that uses algorithm-based matching systems and artificial intelligence to facilitate knowledge exchange among the users and between the users and the speakers. It accurately recommends similar content and creates personalised CME-accredited learning programmes based on the users' preferences. Being fully customisable, it also means that so far, some societies have started using some of its features while others are already using the full pool of services, including the expertise of our team in the design and delivery of online educational strategies to level up their community engagement and reach.
In May 2023 I received the IAPCO Driving Excellence Innovation Award on behalf of the Digital team. At Kenes Group we are grateful for the recognition of years of vision and hard work, and we are excited for this opportunity to show the world the potential of UNLOK Education and get many more associations to jump into this new era of continuing medical education.
By Audrey Alloul
Chief Digital Officer at Kenes Group and IAPCO Innovation Award 2022 Winner
This article was originally published in The PCO magazine – August 2023, on the theme of 'DIGITAL: Redefining Engagement and Connectivity': https://bit.ly/3EfKJVs