Dear WHAH Community members,
After 6 months, the wait is finally over. The World Hospital at Home Congress Recordings are now available in the Education Portal on UNLOK!
The best part is that joining WHAH on UNLOK is completely FREE of charge!
Explore a wealth of information
Some tips to get you started
Once you have logged into UNLOK, go to "Videos" on the right-hand side.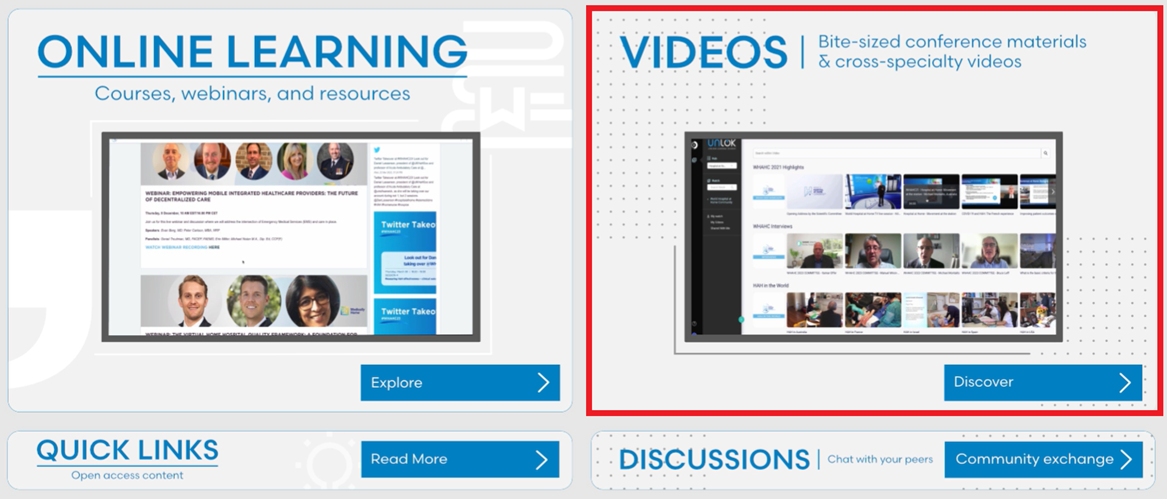 In the portal, you will find more than 100 hours of content!
Not sure where to start?
We have chosen a few highlights for you, out of the most watched and highest rated presentations of the event.
Education, Training, And Role Definitions In Hah
Rachel Choe – Preparing Residents To Deliver (Un)Conventional Care: Hospital-At-Home Training For Junior Doctors – Where Are We Now And Where Do We Need To Be?
Enrico Brunetti – The Future Of Therapeutic Education: E-Health Solutions For Caregiver Support In Hospital-At-Home Patients
Alexandra Lindsay-Perez, Rebekah Schiff – Training The Future Hospital@Home (H@H) Doctors: The Use Of Simulation Training For Induction
Technology and Clinical Innovations in HAH at a Glance
Yonatan Keschner – Development And Validation Of An Automated Patient Identification Screening Tool For Home Hospital
Karina Glick – Intravenous Antiviral Treatment For Home Hospitalized Covid-19 Patients
Pediatrics in HaH
Caroline Miler – Hah Care After Early Neonatology Hospital Discharge
David Avran – How To Quickly Set Up Home Platelet Transfusions For Terminally Ill Children?
Raquel Jiménez García – Three Years Of Hospital At Home Programme For Acute Pediatric Illnesses. Which Patients Benefit?
Melanie Lefevre – Organisation Of Paediatric Hospital-At-Home: Insights From Four Countries
Do you already have a free account?
No account yet?